Today Hannah and I went to the High Museum of Art to see an exhibit of Henri Cartier-Bresson's photography. Amazing! Hannah had wanted to go to see it for some time and today was the last day for the exhibit, so we made a run for it.
Cartier-Bresson is considered the father of modern photojournalism. He began taking pictures of everyday people or what is called 'street photography'. He eventually, over a very long and prolific career, took pictures all over the world and of many famous individuals, ie, Carl Jung, Coco Chanel, Truman Capote, William Faulkner, Henri Matisse, and many more.

But, it is the ones of unknown people that moved me the most. There was a strong need to get close to them to look at all that was going on in the picture, to understand something about the environment and circumstances. Cartier-Bresson's later works told a story and I felt I could grasp his intent better than with his earlier photos; with a short explanation of what was going on, I was able to see with more clarity and understanding. (Hannah says that is because I am so analytical)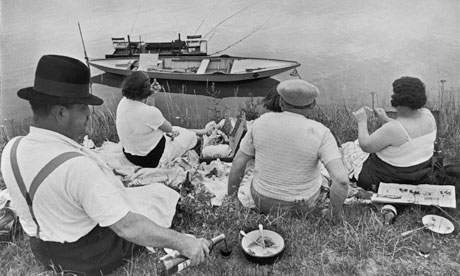 Then we went to
Yeah Burger
to eat! The turkey burger is out of this world!! If you are in Atlanta, you need to try this place.